Pastoral Message 2019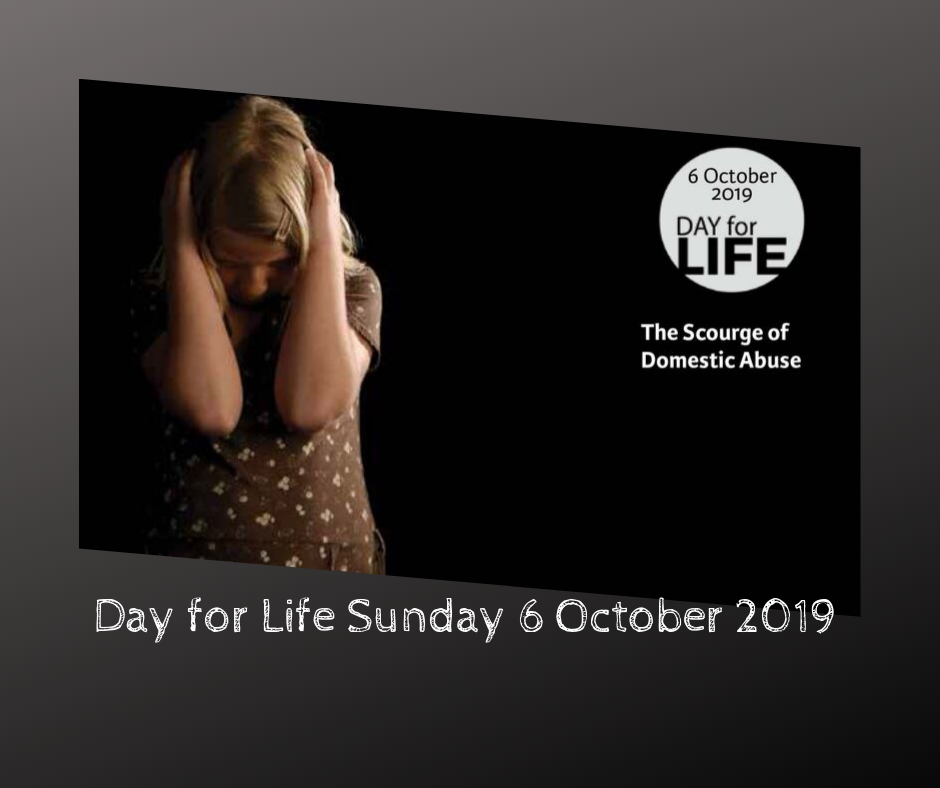 About Day For Life
Day for Life is celebrated annually by the Catholic Church in Ireland, Scotland, England and Wales. It is a day dedicated to raising awareness of the meaning and value of human life at every stage and in every condition.
This year's Day for Life will be celebrated in Ireland on Sunday 6 October and will focus on the theme: 'The Scourge of Domestic Abuse'.
Day for Life Pastoral Message for 2019 –  'The Scourge of Domestic Abuse'
Jesus said:

'The Spirit of the Lord has been given to me,
for he has anointed me.
He has sent me to bring the good news to the poor,
To proclaim liberty to captives
And to the blind new sight,
To set the downtrodden free,
To proclaim the Lord's year of favour.'
Luke 4:18-19
The Catholic bishops of Ireland, England & Wales and Scotland have chosen to focus on domestic abuse as the theme for Day for Life 2019. We wish to raise awareness of the prevalence of this issue across our countries.
Laura's Story 
'My name is Laura and I am forty-three years old. I have three daughters and a beautiful grand-daughter. During my many years of marriage, I was repeatedly abused by my husband. I had my jaw and teeth broken, and on several occasions was strangled to the point of unconsciousness. Despite knowing that his behaviour was unacceptable, I desperately wanted my marriage to work …'
Read Laura's story in full below.
An Intolerable Problem
One in four women and about one in six men suffers from domestic abuse in their lifetime. According to a 2018 report2, almost nine out of every ten women murdered in Ireland are killed by a man known to them. This fatal violence is at the most severe end of the spectrum of domestic abuse. Women's Aid says that the dangerous patterns present in abusive relationships are all too often dismissed and not taken seriously, which can put women at risk of serious assault or homicide.
It is a deeply regrettable fact that men, women and children suffer domestic abuse at the hands of husbands, wives, parents and other family members. Violence of this kind should never be tolerated or justified. It is an offence against the dignity of the human person.
Pope Francis
The Church recognises the hurt done to those who have experienced domestic abuse. As Pope Francis wrote in 2016:
Unacceptable customs still need to be eliminated. I think particularly of the shameful ill-treatment to which women are sometimes subjected, domestic violence and various forms of enslavement which, rather than a show of masculine power, are craven acts of cowardice. The verbal, physical and sexual violence that women endure in some marriages contradicts the very nature of the conjugal union. (Amoris Laetitia, 54)
How can Catholic parishes and communities be places of safety, welcome and assistance?
This is a call to action for our parishes, schools and Catholic communities to reflect, learn and act together, so that we can help those suffering from domestic abuse in our parishes, our workplaces and even in our own homes. Knowing what to look for and spotting the signs means that, individually and collectively, we can make a real difference to people's lives.
It is time to start talking and taking action. Go to www.dayforlife.org or www.catholicbishops.ie to find out more about what you can do.
Notes
The name has been changed to protect the identity of the survivor.
Women's Aid, Femicide Report, 2018.
Pastoral Message in English, Irish and Polish – Downloads
Click here to download a PDF of the Pastoral Message in English, Irish and Polish
Day for Life 2019 Pastoral Message – English
Day for Life 2019 Pastoral Message – Irish
Day for Life 2019 Pastoral Message – Polish
Prayers of Intercession
On this annual Day for Life, we give thanks to God for the gift of life which he has given us and we ask him for what we need so that we and those around us can life life, free from fear and exploitation, as God intended.
We pray for our families – that we may have the grace to live all our relationships with tenderness and mutual respect, inspired by the Spirit of God. Lord hear us.
We pray for women, men and children who live on a daily basis with the fear of physical or emotional violence in their homes – that they may find peace in a place of safety. Lord hear us.
We pray for families in our society who are without a proper home – that they may soon find a place where they can live their family life without the stress associated with being homeless. Lord hear us.
We pray for our society – that, inspired by the Word of God and by good government, we may rediscover the kind of values that support family life. Lord hear us.
We pray for all who have died, and especially those who have died as a result of domestic violence – that they may be welcomed and loved in their heavenly home with Jesus and all the saints
Heavenly father, these are the prayers of your sons and daughters. We ask you to hear and answer them, through Christ Our Lord. Amen.
Day for Life Prayers
Day for Life prayer
Holy Mary, Mother of Love,
holding in your arms, the fruit of your womb,
graciously look upon our earth and remove from it
all that hardens our hearts and dims our eyes
to the preciousness of human life,
from the moment of conception to natural death.
Through the example of your tenderness
teach us the ways of compassion and love
that we may build up the civilisation of love among us
and a society that is truly worthy of the human person.
Help us to reject all that contributes to a culture of death,
and to work with others of goodwill
in promoting the culture of life.
Bring us ever closer to your Son,
so that we may know the fullness of life that he offers us
and come to know that life more perfectly,
with you, and all the angels and saints,
in the eternal life of Heaven.
Amen
Laura's Story
My name is Laura* and I'm 43 years old. I have 3 daughters aged 22, 18 and 10. I also have a beautiful granddaughter who is 2 years old.
Naturally, every parent will worry about their children. However, in my case I feel I have even more concerns. I worry about their physical health but more importantly I worry tremendously about their emotional health.
My daughters experienced a lot growing up due to the fact that my husband was extremely violent towards me. Although he almost never assaulted me in front of the children, they undoubtedly heard an awful lot. They heard things that no child should ever be subject to.
During my many years of marriage, I was horrifically and repeatedly abused in every way imaginable. I had my jaw broken, teeth broken, was strangled to the point of unconsciousness on countless occasions. On one hospital visit, where I had obviously lied about what had happened, I was told that I had whiplash and significant injuries similar to that of a car accident victim.
Despite knowing that his behaviour was unacceptable, I desperately wanted my marriage to work. I was scared 24 hours a day, not knowing when I would be beaten, degraded sexually, or financially and emotionally abused.
When my husband beat me up really badly in front of our then three-year-old daughter, I decided that was enough. I decided that although they had witnessed I was not going to allow my children to be witness to such despicable behaviour, despite them already being witness albeit audibly.
My husband left the family home, but he continued to stalk me and terrorise me for a long time after.
During a weekend contact visit he attacked our then five-year-old daughter. She was black and blue. I felt dreadfully responsible, and I still do. I hadn't told many people due to feelings of embarrassment and fear, but after this attack on our child I finally gathered the courage to go to the police.
He was arrested and charged with one count of battery against me and 2 counts of ABH – one against me and the other against our five-year-old. The case was sent straight to the Crown Court due to its severity. He pleaded not guilty.
My young child had to be cross examined in court by Barristers and despite her young age she was highly consistent with the accounts she had originally given to the police.
Ultimately, even in the face of extreme evidence against him, including text message evidence where he had admitted these offences and that had been recovered from his phone by police forensics, he was found not guilty on all counts.
The detective in our case worked so hard and despite the not guilty verdict, she ensured that, on the basis of the evidence against him, he did not get his job back. The detective told me that this would be the way we'd get justice.
It was a sort of justice; however, I'd have much preferred him to have been held accountable for everything he did. I felt this to be a sure sign that domestic abuse is not treated seriously enough, even in this day and age.
This was an horrific time for myself and my girls and there was social services involvement for a time due to our 'vulnerability'. I also still have a marker on my home for our protection and still live in some fear.
Although I know ultimately this was not my fault and that I did not deserve this, I found it difficult to internalise my worth as a person. I was so very, very scared so I can only begin to imagine how this was for my girls. I feel continuous guilt for being too weak to change things. Both for me, and for them.
Although this has been greatly difficult to revisit, I am happy that I can tell my story to perhaps go some way in helping others in any way I can.
Thank you for reading my story, my very real story.
Laura*
*Names have been changed to protect identity.
ENDS 
Pastoral Message 2018 
Click on the below PDFs to download the English, Irish and Polish pastoral messages.
Latest News
'Day for Life' 2018 message addresses human trafficking and modern slavery – read here.
Pope calls for a firm stand against 'shameful crime' of human trafficking – read here.
Joint statement from the Australian Catholic Bishops Conference and Australian Catholic Religious Against Trafficking in Humans (ACRATH) – read here.
US Conference of Catholic Bishops statement on Human Trafficking – read here.
Cardinal Séan Brady's letter to members of the Northern Ireland Legislative Assembly concerning the Human Trafficking and Exploitation Bill – read here.
Archbishop Diarmuid Martin warns trafficking is a 'real problem' – read here.
What you can do and 20 action points from the Office for Migrants and Refugees of the Dicastery for Integral Human Development – read here.
Various Citations from Catholic Social Teaching – read here.
Prayers of Intercession on the theme of Human Trafficking
(There are more prayers here than might be used in any one liturgy. The idea is not to use them all but to offer people a selection. You are invited to adapt the intercessions to suit your circumstances).
On this day, when we celebrate the gift if life which comes from God, we make our prayers for all our needs and especially for the needs of those whose lives have been affected by the reality of human trafficking
1. For people everywhere, who are made in the image of God – that they may be valued for who they are and not for the economic benefit that they bring to others. Lord hear us.
2. For women and men who have been victims of human trafficking so that they can be used for the profit or the pleasure of others – that they may be rescued out of slavery and helped to build new lives which are consistent with their own freedom and dignity. Lord hear us.
3. For children who have been unlawfully removed from the families and from their homes – that they may be found safe and well and restored to their families and friends. Lord hear us.
4. For families who have lost trace of a son or daughter, a brother or sister – that they may be consoled and supported in the hope of one day being reunited with the one who is lost. Lord hear us
5. For all who work to find and to support victims of human trafficking – that their work may bear fruit and that they may retain always their own sense of the dignity of every person. Lord hear us.
6. For political leaders and public servants – that their eyes and their hearts may be opened to respond with urgency to the challenge of human trafficking. Lord hear us.
7. For employers, supervisors and others in the world of business – that they be watchful for signs of human trafficking in their own industries. Lord hears us.
8. For all who have died as a result of their violence and abuse associated with human trafficking – that they may enjoy freedom and peace in the kingdom of heaven. Lord hear us.
God our Father, you love all your daughters and sons equally and personally. We entrust to you our brothers and sisters whose lives have been touched by the pain of human trafficking. Help them to know, even in their isolation and enslavement, that they remain your sons and daughters and that you love them with an everlasting love. We make this prayer through Christ Our Lord.
Testimony
"My name is Daia*. I'm from a small town in Edo State, Nigeria. My family were very poor and from a young age I was always chasing a 'better life'.
"At 18 I met and fell in love with Victor*, from Lagos. I was so impressed by his fine clothes and his confidence. Victor suggested going together to London – he said he had friends there and a job for me, cleaning in a hair salon. I was so excited. Victor traveled ahead and I was to follow him.
"After a long journey I arrived in Dublin. I had never heard of this place but thought it was just another stop-over on my way to London. Victor had arranged for someone to meet me. This man took me in his car. But we did not go to Victor, or to the hair salon, or to London. He took me to a brothel. I have been here ever since."
* This is a true story. Names have been changed to protect identities.
Human Trafficking and Modern Slavery
Jesus tells us, "I have come that you may have life, and have it to the full." (John 10:10 NJB). But many people do not have life to the full.
They have fallen victim to the scourge of human trafficking and modern slavery which are an assault on a person's innate human dignity. People are not commodities to be traded ruthlessly for criminal profit.
Indeed, this is something that is happening in communities across our country, not just in our big cities. It's not only happening in brothels and nail bars, but on farms, building sites and factories as well. Nor is this a problem confined to immigrant communities, it is affecting our own citizens too.
Trafficking is a growing problem and the UN estimates that over 40 million people worldwide are in slavery. In Ireland each year the victims of trafficking is approaching 100. Irish people are also trafficked in the UK where it is estimated that the total number of victims each year is over 13,000 from all countries.
Criminals exploit some of the most vulnerable and desperate people. We can act together to stop this. It is a crime hidden in plain sight. It is difficult to investigate, and the police need our help to identify and stop the traffickers and rescue and support the victims.
How can we help?
The Catholic community can make a real difference to help solve this problem – to help victims find freedom and live life to the full. There are many organisations working to put a stop to human trafficking and modern slavery. One of these, the Santa Marta Group, works internationally to bring the Catholic Church and law enforcement agencies together to eradicate slavery.
To read more visit www.santamartagroup.com
A Diocese or local Church community can effect real change for trafficked people.
Day for Life is celebrated yearly by the Catholic Church in Ireland, Scotland, England and Wales. It is a day dedicated to raising awareness about the meaning and value of human life at every stage and in every condition.
We encourage you to deepen your understanding of Catholic Social Teaching on this important question by exploring the material we have for you on www.chooselife2018.ie/Day4Life/
We wish to thank Ruhama for its support in the preparation of this pastoral message on human trafficking. Ruhama is involved in advocacy and assists women affected by prostitution including victims of sex trafficking. See www.ruhama.ie
Graphics
Click each photo to download a high-resolution version.